PRE-REGISTER NOW TO CLAIM YOUR BITCOIN DEPOSIT BONUS ↓
CLAIM DEPOSIT BONUS ↓
The world's first

Bitcoin knockout tournament

Play the world's only multiplayer gambling game based on Bitcoin's live price. Earn crypto by correctly predicting the Bitcoin live chart in 5 minute rounds.
Pre-Register
PICK A SIDE
Watch the Bitcoin chart and predict Bull or Bear in any 5 minute round.
CLIMB THE LEADERBOARD
Predict correctly to collect variable Bitcoin payouts and build win streaks.
Predict correctly and win up to +500% in minutes
CLAIM THE JACKPOT
Build a win streak longer than any other player to collect the Bitcoin jackpot.
The longer the streak, the bigger the payout.
Pre-register and refer a friend to Bull vs Bear before launch.
Get a head start with a 100% first deposit matched bonus up to ₿0.01.
By referring a friend to Bull vs Bear you agree to the Refer-a-Friend Bonus Terms & Conditions.
Your email address will only ever be used to notify you upon launch. We do not sell or distribute your email address to any third-party and you may opt out at any time. Privacy Policy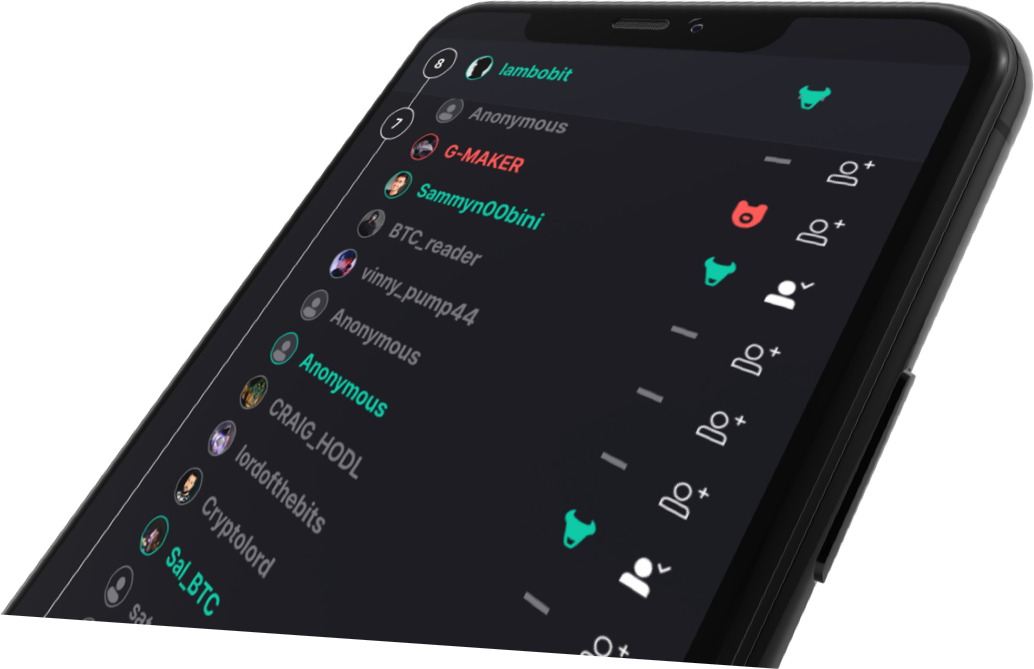 PREDICT TO PLAY. SURVIVE TO WIN.
Experience a game with a unique combination of chance and skill.
Compete and win against other players in a new way to make money online.
Crypto trading alternative
Compete against real players in an environment without bots and fake volume.
Read the charts for an advantage against the competition. Part of Crypto Twitter? Follow and be followed in a social trading atmosphere. Attract followers on Twitter by showing them who's boss.
Dice and Crash alternative
Develop strategies in a game that isn't purely based on chance.
Expect every round to be unique as the current Coinbase price changes over time. Play for free, follow the moves of other players and learn fundamental aspects of how to trade cryptocurrency as you go.
BULL VS BEAR IN YOUR POCKET
Responsive mobile-first experience, instant deposits and beyond.
Download Bull vs Bear to your home screen and enjoy all platform features
from your favourite device.
CRYPTOCURRENCY NEWS
COINSPEAKER.COM
Exciting Crypto Betting Game and Knockout Tournament Opens for Pre-Registration
Innovative Bitcoin betting game Bull vs Bear is set to put traders in a spin with a new approach to taking advantage of market volatility in a fun, competitive environment.
Ziggurat Curacao N.V.'s exciting new strategy game allows crypto traders to compete against each other and where stability, risk and volatility of crypto assets converge. Bull vs Bear is a fantastic antidote to the volatility of largely…
CRYPTOMODE.COM
Real-Time Bitcoin Betting Game Creates a Major Buzz in the Gambling and Crypto-Markets
New and innovative, Bull vs Bear is set to be the biggest breakout online gambling platform in 2021 and take the Bitcoin experience to a whole new level of fun…
MORNINGTICK.COM
Social Gambling App That Novices Can Bet On – Without the Bitcoin Burn
Bull vs Bear is a unique Bitcoin betting app set to be released in 2021, enabling complete Bitcoin beginners to learn more about cryptocurrency trades with the thrill of a fun gambling environment.
Frequently Asked Questions
Bull vs Bear is the world's first multiplayer gambling tournament based on Bitcoin's live price. The idea is simple: correctly predict if the Bitcoin price will rise or fall in 5 minutes time. You can play for free or raise the stakes by backing your prediction with Bitcoin. Correct predictions will receive payouts based on their relative size to the pool of incorrect predictions. You can climb and claim the Jackpot by winning consecutively more times than any other player.

Most people assume the odds of winning Bull vs Bear is the same as a coin toss: a 50/50 probability. But think again! You may have a chance to increase your odds of winning by employing strategies such as:

Mimicking the predictions of players that are positioned high on the leaderboard
Using the TA (technical analysis) to form your predictions
Basing your predictions on the real-time relative payout they'll receive
Taking note of the overall stance of all other players

Bull vs Bear is a game of strategy – and everyone has their own!

Absolutely! Bull vs Bear is 100% free to play. You can make a prediction, climb the leaderboard and win the Jackpot – all without betting any Bitcoin!

The minimum bet to receive a payout on a correct prediction is ₿0.000001. If you don't wish to place a bet, you can still place a prediction and climb the leaderboard for free! The Jackpot can be won by any player.

You're allowed to play Bull vs Bear as long as you're not from Australia, Aruba, Bonaire, Curaçao, France, St. Maarten, Saba, Statia, Singapore, The Netherlands, the United Kingdom, the United States and/or any other jurisdiction where online gambling is illegal.

All Bitcoin deposits are facilitated by Coinbase Commerce in a fully decentralized and peer-to-peer manner. Your deposit goes directly from your wallet to a Coinbase wallet that is accessible only by our Anti-Money Laundering Compliance Officer (AMLCO). At no point in this flow does anyone except the AMLCO, including Coinbase, have access to these funds. All withdrawals are processed manually by the AMLCO and can only go back to the originating wallet(s).
All operations are monitored by the Government of Curaçao to ensure ongoing compliance with eGaming license requirements. Additional licenses are in consideration.
Refer-a-Friend Bonus Terms & Conditions
Individuals located in Australia, Aruba, Bonaire, Curaçao, France, St. Maarten, Saba, Statia, Singapore, The Netherlands, the United Kingdom, the United States and/or any other jurisdiction where online gambling is illegal are prohibited from pre-registering from the service and/or entering the Refer-A-Friend (RAF) Promotion.
Only the first 100 individuals to have a friend pre-register through their supplied Referral Link are eligible for the RAF Promotion. Your referred friend must not have already pre-registered for the service.
Your referred friend must make a first deposit in a single transaction of above ₿0.01 to be eligible for you to receive the RAF bonus.
The RAF bonus is calculated as 100% of your first deposit, with a maximum award of ₿0.01, and has a 5-time rollover requirement before any withdrawal can be requested.
The RAF bonus will be credited within 48 hours of qualification and will be valid for a period of 30 days.
The following violations will result in disqualification from the RAF Promotion:

Funding your referred friend's account
Referring a member of your family, or someone who lives in the same household, uses the same computer, mobile device or IP to pre-register
Spamming your supplied Referral Link
Pre-registering with a temporary email address

Any eligible participant of the RAF Promotion may be subject to review prior to any RAF bonus approval. Your identity will be determined on the basis of all or any combination of the following: name, email address, IP address, computer, and any other forms of identification which may be required.
Employees of Ziggurat Curaçao N.V. and their respective subsidiaries, affiliates, agents and promotion companies, and advertising agencies involved in this promotion are not eligible to participate.
Ziggurat Curaçao N.V. reserves the right to withdraw or amend this promotion in its entirety at any time, without prior notice. All decisions are final.
Ziggurat Curaçao N.V. also withholds the right, at its discretion, to exclude any individual from participation and/or withhold bonus payment if it believes the RAF Promotion has been abused and/or where the terms of the promotion are not fulfilled, or irregular betting patterns are found.
All future service Terms & Conditions apply.
Privacy Policy
As a data controller, we have a legal obligation under gambling regulations to process personal data from players in order to allow them to participate in games and provide them with ancillary services. This Privacy Policy explains what personal data we collect from players, why we collect it and how we utilise it. The website Bull vs Bear is operated by Ziggurat Curaçao N.V., a company registered and established under the laws of Curacao. Ziggurat Curaçao N.V. is licensed and regulated by Antillephone N.V. (license no. 8048/JAZ). Ziggurat Curaçao N.V.'s registration number is 149402 and its registered address is Heelsumstraat 51 E-Commerce Park, Curaçao. If you have any other questions regarding this Privacy Policy or protection of your data, please feel free to contact our Data Protection Officer at dpo@bullvsbear.to. By registering a Player Account with the Website you confirm your consent with this Privacy Policy. If you do not agree with the terms of this Privacy Policy and do not wish to provide us with the personal information we require, please do not use this website. Please note that this Privacy Policy constitutes an agreement between you and the Company. We may periodically make modifications to this Policy. While we will do our best to notify you of such changes, we recommend that you revisit this Privacy Policy regularly. Your continued use of the Website and/or its services will constitute your consent to the Privacy Policy.
INFORMATION WE COLLECT
The Personal Information which we may request to use and process shall include, without limitation:
Any of the information that you provide to us when filling in the forms on our account registration pages, as well as any other data that you further submit via the Website or email (e.g. first and last name, date of birth, email address);
Correspondence made with us via the Website, email, or through other means of communication;
All Player Account transaction history, whether this takes place via the Website(s) or via other means of communication;
Website logins and their details, including traffic data, GeoIP location data, browser/device data, weblogs, activity logs and other traffic information recorded in our system;
Documents and proofs reasonably requested by us to verify your account, to process deposits or withdrawals and to conduct anti-fraud checks (on our own initiative or as required by applicable legislation). Such proofs may include passport or drivers license scans and means of providing proof of residence.
Survey participations or any other customer assessments that we may carry out from time to time.
HOW WE USE YOUR INFORMATION
We process the Personal Information we collect from you in order to deliver our services. In particular, we will use your data for the following purposes:
Processing your bets and transactions, including your use of online payment systems;
Providing you with gaming and other ancillary services that you seek from our Website;
Rendering customer support, such as assistance with setting up and managing your account;
Identifying and performing the necessary verification checks;
Providing registered players with information about our promotional offers, or providing promotional information from our selected business partners, associates and affiliates (only if players specifically consented to receiving such marketing material);
Complying with legal responsibilities, including complying with anti-money laundering (AML) and combating the financing of terrorism (CFT) laws;
Monitoring and investigating transactions for the purposes of preventing fraud, terms abuse, money laundering and other illegal or irregular gaming activities;
Analysing customer trends through market study assessments (participation in surveys is not obligatory and you can always choose not to take part);
Conducting research and statistical analysis of aggregated data.
MARKETING COMMUNICATION
Unless you have elected not to receive promotional materials, we may use your Personal Information to send you marketing communications regarding products, services and promotions. Whenever you decide to stop receiving such marketing and advertising material, you may opt out of this in your Player Account settings or by contacting our customer support at support@bullvsbear.to. Additionally, note that by accepting any contest prize or winnings from us, you consent to the use of your nickname for advertising and promotional purposes without additional compensation, except where prohibited by law.
OBTAINING PERSONAL INFORMATION
We retain the right to automatically collect accessory data about you based on Personal Information received through the use of our services and your interactions with us. We may also lawfully receive certain Personal Information from online vendors and service providers, such as fraud prevention companies. In addition, we retain the right to engage the services of third-party providers to render technical support and process your online transactions. Please understand that we may be granted access to any information you may provide to such vendors, service providers and third-party e-commerce services. Rest assured that we will use and safeguard any Personal Information so obtained, as set out in this Policy. Any information that you provide will only be disclosed to third parties outside the Company in accordance with this Privacy Policy, and we shall take any necessary steps to ensure that our agreements with third-party service providers always protect your private information.
DATA RECIPIENTS
We may pass information that you have given us to other entities within our group of companies and to our business partners. These companies include our parent companies, their parent companies and all of the subsidiaries of these respective companies, as well as other companies with whom we carry out business and hold necessary agreements. Data processing of your information may be undertaken by the Company or by another entity in our group of companies, which may use a third party to fulfill such data processing needs. Employees of the Company, more specifically Data Protection Officer, Money Laundering Officer, Payments & Anti-Fraud analysts, Customer Support agents, Customer Retention team members, VIP player managers as well as other selected employees, shall also have access to your Personal Information for the purpose of executing their duties and providing you with assistance. Our employees who have access to, or are associated with the processing of the player's personal information, have signed confidentiality agreements to respect the confidential nature of the player's information pursuant to applicable gaming, data protection and privacy laws. In order to provide you with an efficient service, we and/or our service providers might require transferring your personal data from one country to another in the European Union (EU) and European Free Trade Association (EFTA) regions and also to some data processors that may be based outside of the European Economic Area (EEA). Therefore, by browsing the Website and communicating electronically with us, you acknowledge and agree to our (or our suppliers or sub-contractors) processing of your data in these countries. We shall always use our best efforts to ensure that your information and data is treated securely and in accordance with this Privacy Policy.
RELEASING DATA TO THIRD PARTIES
We do not sell or rent your personal data to third parties. We may disclose your personal information if required by law, regulation, or other legal subpoena or warrant. We may also disclose your personal information to a regulatory or law enforcement agency if we believe it to be necessary to protect the legitimate interests of the Company, its customers or any third party.
Personal data will only be disclosed to third parties in the following cases:
Where we are required to do so by law;
If the Website needs to share data with its payment processors to facilitate payment transactions in accordance with their privacy policies
To comply with our legal and regulatory duties and responsibilities to the relevant licensing and regulatory authorities as well as all duties and responsibilities owed under any other applicable legislation and to any other applicable regulators in other jurisdictions;
When the Company believes that disclosure is necessary to protect the Company's or the player's safety, or the safety of others, investigate fraud, or respond to a government request;
If our marketing service providers require the data to carry out their tasks;
To any other third party with the player's prior consent to do so.
We use third-party data processors to process limited personal data on our behalf. Such service providers support the Website, especially relating to hosting and operating the websites, marketing, analytics, improving the websites, and sending email newsletters. We shall ensure that the transfer of the Personal Data to the recipient is compliant with applicable Data Protection Legislation and that the same obligations are imposed on the processor as is imposed on us under the respective Services Agreement. Our websites may also include social media features (e.g. "share" or "like" buttons). Such features are provided by third-party social media platforms such as Facebook. Where data is collected this way, its processing is governed by the privacy policy of the respective social media platforms. In addition to the above, we may also release personal data if we acquire any new businesses. Should the Company undergo any changes to its structure such as a merger, acquisition by another company or a partial acquisition, it is most likely that our customers' personal data will be included within the sale or transfer. We will, as part of our Policy, inform our players by email prior to affecting such transfer of personal data. Please note our content may link to third party websites to provide relevant references. We are not responsible for such external content, which may contain separate privacy policies and data processing disclosures.
DATA RETENTION
Following closure of your account, we will retain your personal data on record for as long as required by law. This data shall only be used should it be required by competent authorities in cases of enquiries regarding financial and fiscal records, fraud, money laundering or investigations into any other illegal activity. We may also keep anonymized derivatives of your data to improve our content and marketing communications where no automated decision making is involved. You are to note that due to anti-money laundering regulations in licensed gaming jurisdictions in the European Union, we are obliged to retain personal data of players submitted during registration and any data passed on during the operative period of a Player Account for a minimum of five years from last player transaction or account closure. Therefore, requests for erasure prior to the lapse of this period cannot be entertained.
SECURITY OF YOUR DATA
We hereby acknowledge that in collecting and processing your Personal Information for the purposes of managing your Player Account, we are bound by strict legal provisions on the protection of personal data. Consequently, we endeavour to protect your personal information and respect your privacy in accordance with best business practices and applicable regulations. Being committed to providing secure services to players, and we will take all reasonable precautions to ensure that all the data that you have submitted to us remains safe. In cases where we rely on your consent for the processing of personal data, you have a right to withdraw your consent at any time. Player Accounts can only be accessed with the player's unique email and password. You are responsible for keeping your login information confidential and making sure it cannot be accessed by any other person.
CONTACTING US You may always contact us in regards to this Policy should you wish to:
Confirm the accuracy of the personal information we have collected about you;
Enquire about our use of your personal information;
Prohibit future use of your data for direct marketing purposes;
Update or rectify any information that you have provided us (in such cases you shall provide any evidence we may reasonably require to effect such changes). Note it is illegal to provide us with false information about you and it is your responsibility to ensure that we are always updated with your correct data.
In addition, as per Article 77 of the GDPR, you have the right to lodge a complaint related to your data processing to a supervisory authority, in particular in the Member State of your habitual residence, place of work or place of an alleged infringement.
We have appointed a data protection officer ("DPO") who is responsible for overseeing questions in relation to this privacy policy. If you have any questions about this privacy policy, please contact the DPO at dpo@bullvsbear.to.
COOKIE POLICY
When you visit the Website, our system automatically collects information about your visit, such as your browser, IP address, and the referring website. This collection may be done in conjunction with our platform providers and partners. We may receive from them general demographic or usage data of our Website visitors.
To collect the information in question we use cookies and similar tracking tools. Cookies are small text files that are stored on your computer or equipment when you visit our web pages. Some of the cookies are essential for the Website to operate; others improve your Website experience and help us deliver a better service. Below are the types of cookies we use and their purposes:
REQUIRED COOKIES: enable the navigation and basic functionality of the websites, e.g., access to member areas of the Website.
FUNCTIONAL COOKIES: allow us to analyse your website usage and your selections on the website (e.g. your session key, language, or region), so we can save these settings and offer you a more personalised experience.
ADVERTISING COOKIES: allow us to gauge how effective our content marketing is. These cookies are provided by our partners to track website visits and new player registrations from advertising. We do not share your personal information (such as name or email) to affiliated partners except for site visit data collected directly by such Advertising Cookies. However your site visit data may be linked with other personal information collected through other sources by the providers. The latter external data processing is governed by the privacy notices and policies of these third-party providers.
In addition to the above, we use a number of third party service providers who also set cookies on this Website, in order to deliver the services that they are providing to us. Such services include, but are not limited to:
Helping us to improve your experience by tracking your activity on the Website
Measuring the effectiveness of the Website and the effectiveness of our marketing campaigns
Most online browsers automatically accept cookies. If you prefer, it is possible to block some or all cookies, or to delete cookies that have already been set by modifying your browser settings. However, we recommend that you do not block or delete your cookies as this may restrict your use of our Website.
© Ziggurat Curaçao N.V., 2020
Bullvsbear.to and related entities' rights belong to Ziggurat Curaçao N.V. incorporated under the laws of Curaçao with registered address at Heelsumstraat 51 E-Commerce Park, Vredenberg, Curaçao, mail address PO Box 422 Curaçao and registered with the Curaçao Chamber of Commerce & Industry (reg. number 149402). Ziggurat Curaçao N.V. holds a sub-license with Antillephone N.V. holder of Gaming License #8048/JAZ 2019-034 of the Central Government of the Netherland Antilles.
The merchants represented are not affiliated with Bull vs Bear. The logos and other identifying marks attached are trademarks of and owned by each represented company and/or its affiliates. Please visit each company's website for additional terms and conditions.